Trails, barriers, and fences, oh my
Lots has changed on the Cancourse over the past few weeks! Read on for details about our trail activities, fencing/barrier installation, and the trail work party coming up on October 27.
Trails
New
As described in a previous post, trail work party 5 kicked off our work on a flow trail intended to traverse from the top of the Cancourse down to the Shadduck Terminus. We did a bunch of excavator work to form the first several turns. This was a lot of work, because the slope drops off quite rapidly, and there was a deeply eroded trench we wanted to eradicate by crossing it three times. So far so good. This trail section promises to be fun and sustainable once the hand finish work is done. The lower portion of the trail should require much less dirt moving, since we'll have more freedom to choose the line and take advantage of natural features.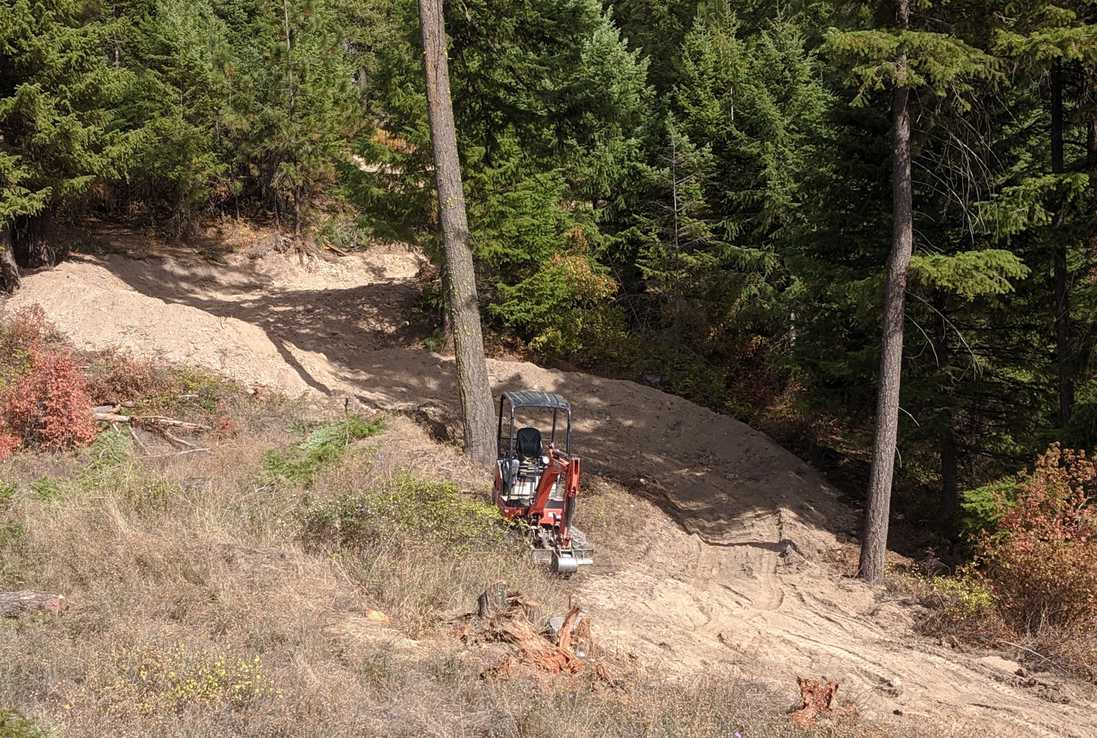 Big berms. Much of the dirt came from a huge pile that appears to have been placed there long ago either as a catchment or as an impediment to motorcycles. There was a stump buried in the pile, which brought the big root ball removal count up to three.
Refurbished
The flow trail will continue southward along an existing ridge trail, but the first part of that trail has been channeling water for several years, with all the resulting erosion you might imagine. Evan has made good progress filling in the gully and sloping the trail outward so that water will tend to flow off the side of the trail, and we're planning on adding a couple grade reversals. We obliterated one fall line feeder trail this week, but there's another critical one that feeds into the bottom of the trail section we're refurbishing.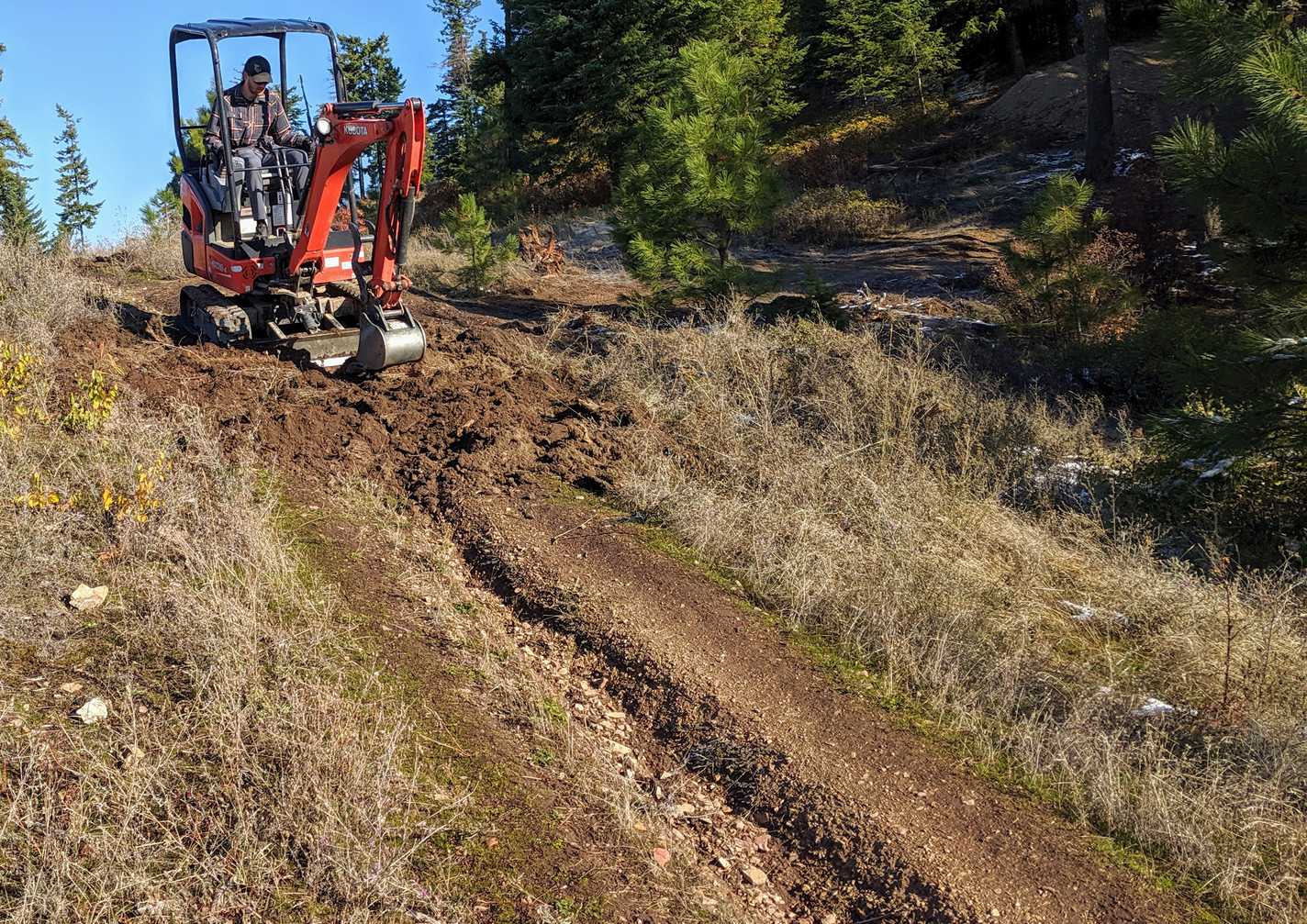 Evan early in his crash course on excavator operation. It was slow going the first day, but he did great work from the very start.
Obliterated
As described in an earlier post, we are implementing some restoration pilot projects to learn what works when accelerating soil and plant recovery in heavily impacted areas. On October 6 we had our first restoration work party, during which we obliterated trail, seeded, planted, and generally enjoyed a perfect autumn afternoon. Daniel Collins of Nicoterra Trails designed the pilots, did much of the work on the upper pilots, and led the work party. It was a great learning experience, and it will be really interesting to watch the effects of our work.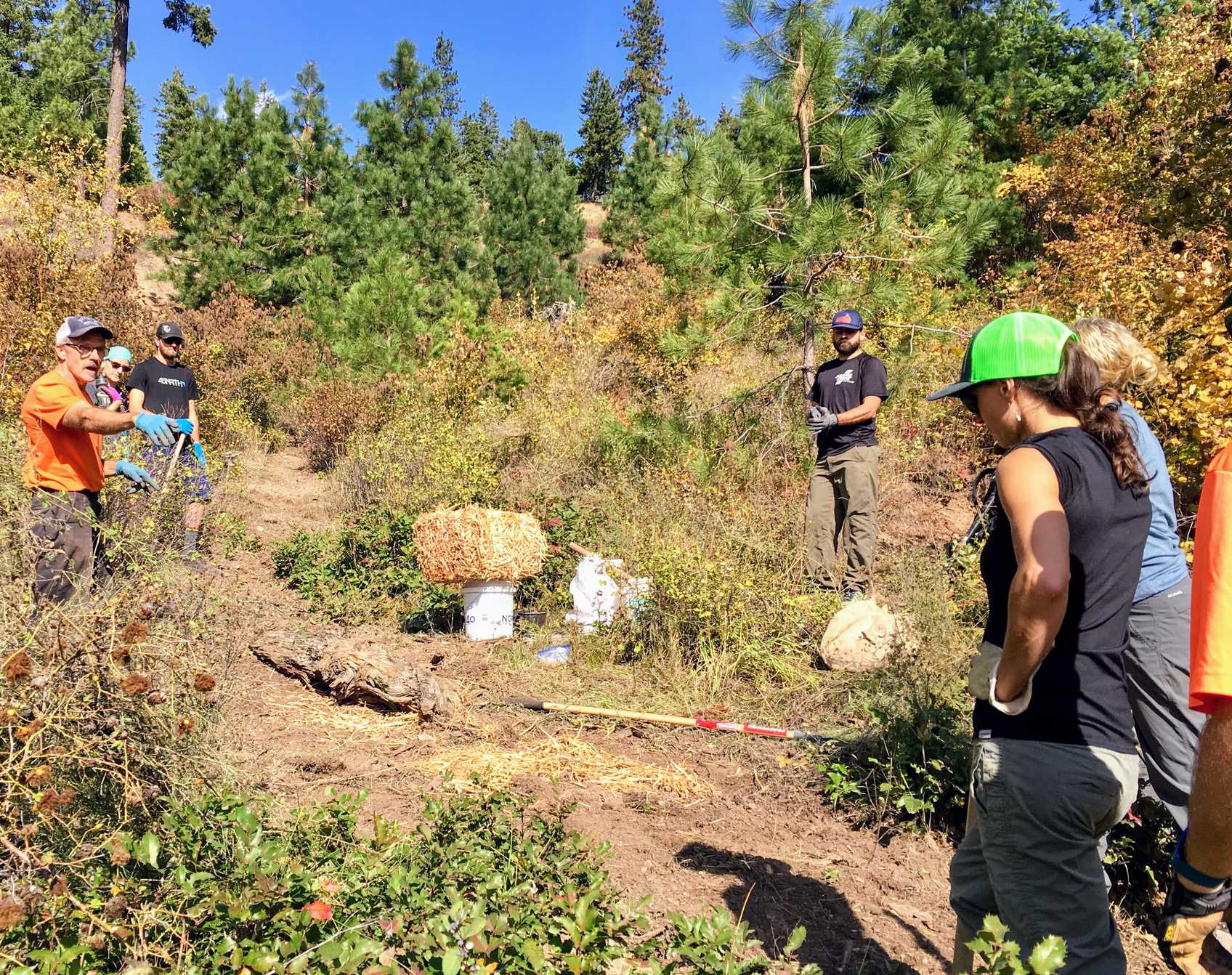 Daniel demonstrating aeration, noxious weed removal, topsoil redistribution, wood straw installation, and hand-broadcast seeding.
---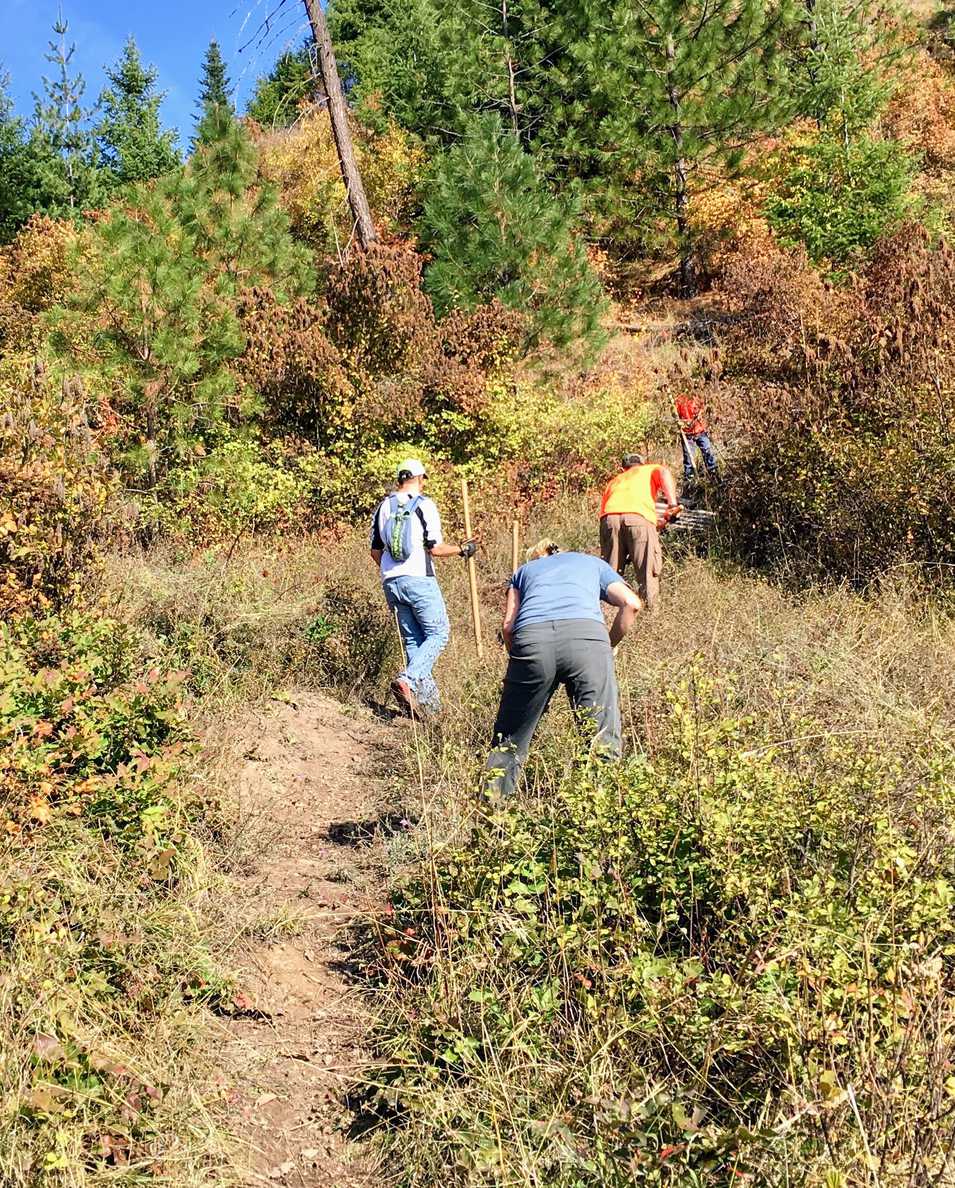 Volunteers removing spotted knapweed in order to access topsoil next to the trail. Once the trail was aerated, the topsoil was redistributed to help relink the two sides and improve growing conditions for seed.
---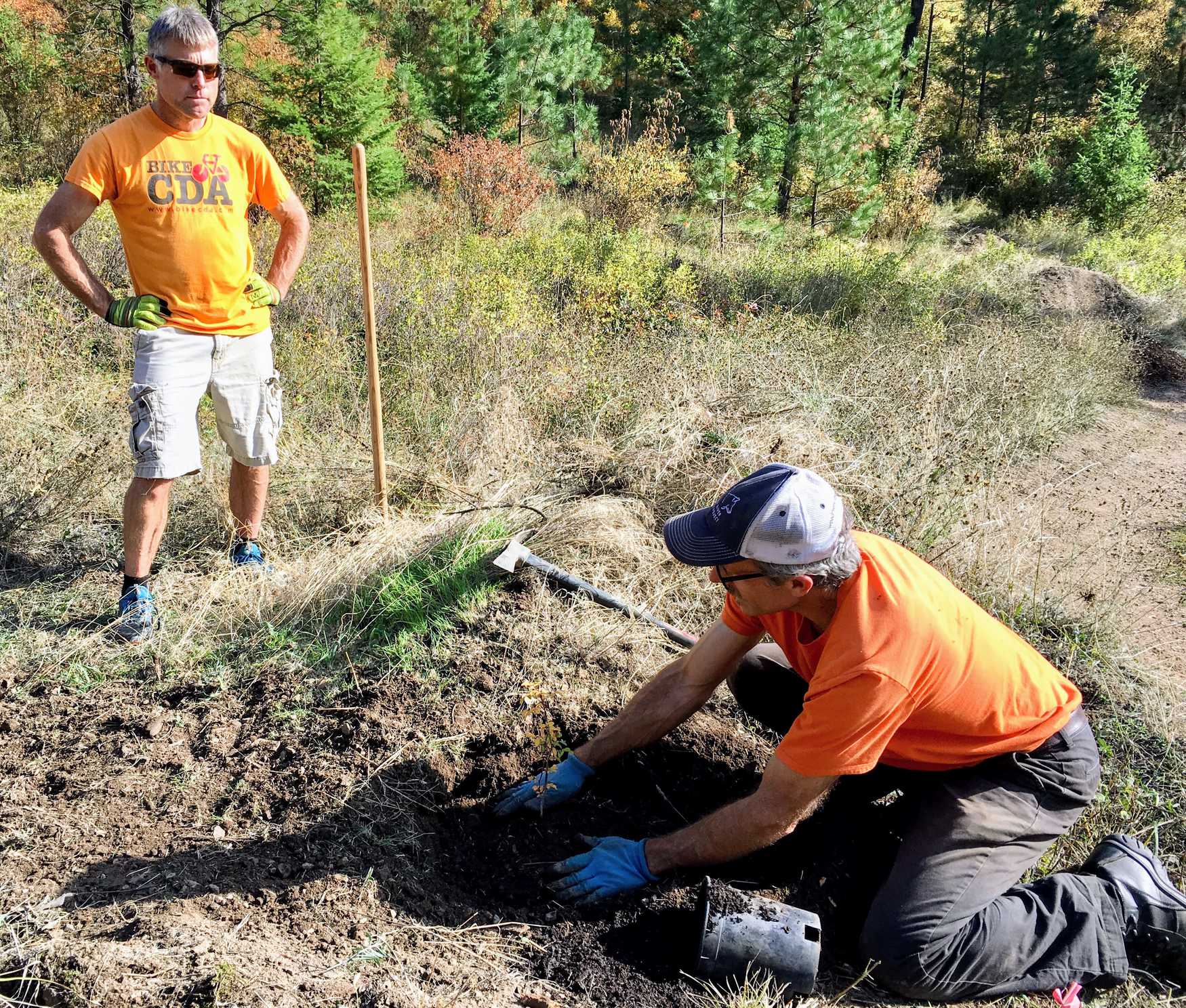 Daniel demonstrating how to plant a shrub (a wild rose in this case). None of us would have gotten this right without the demonstration.
---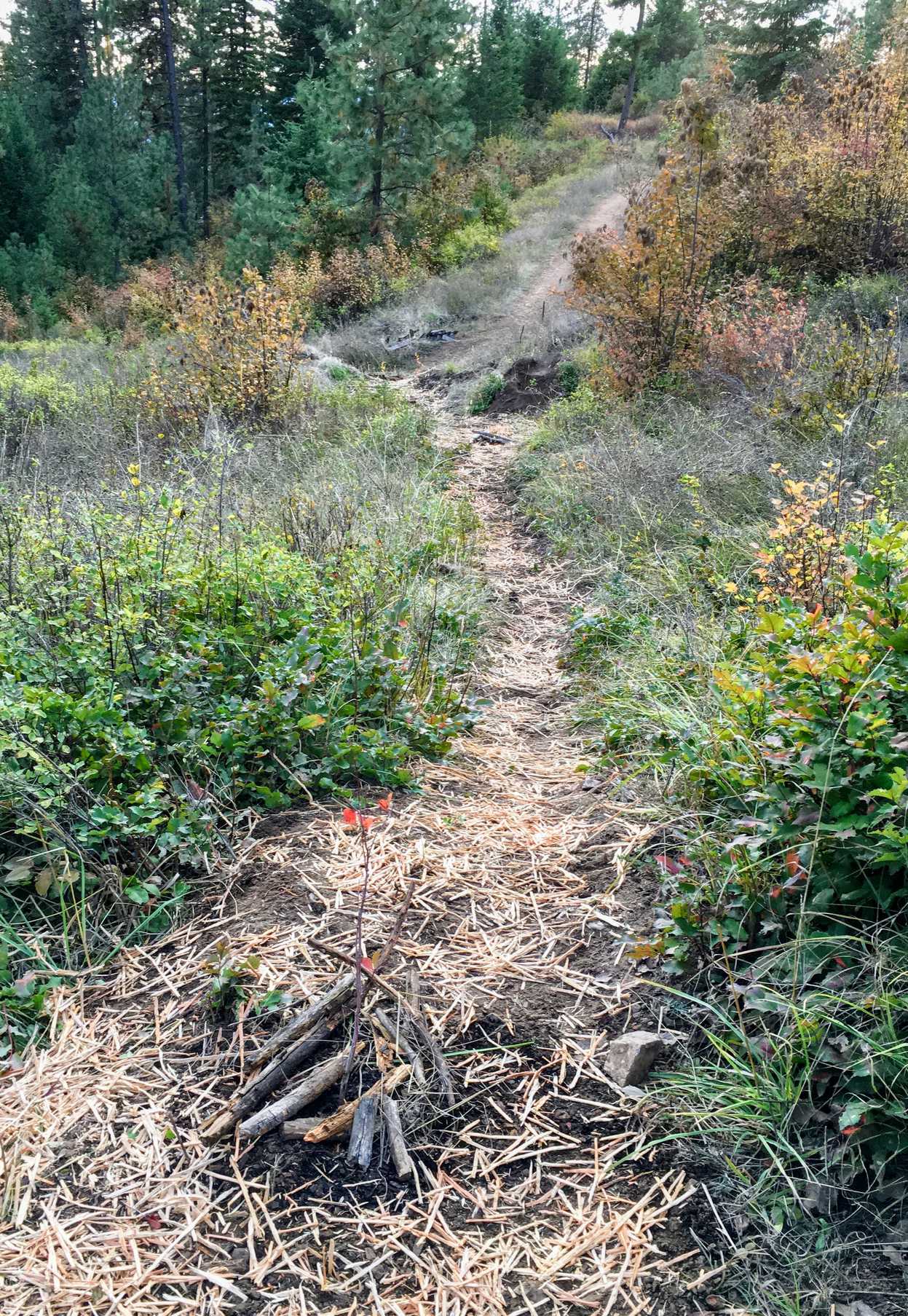 A shrub on an obliterated trail that has been seeded and lightly covered with wood straw.
---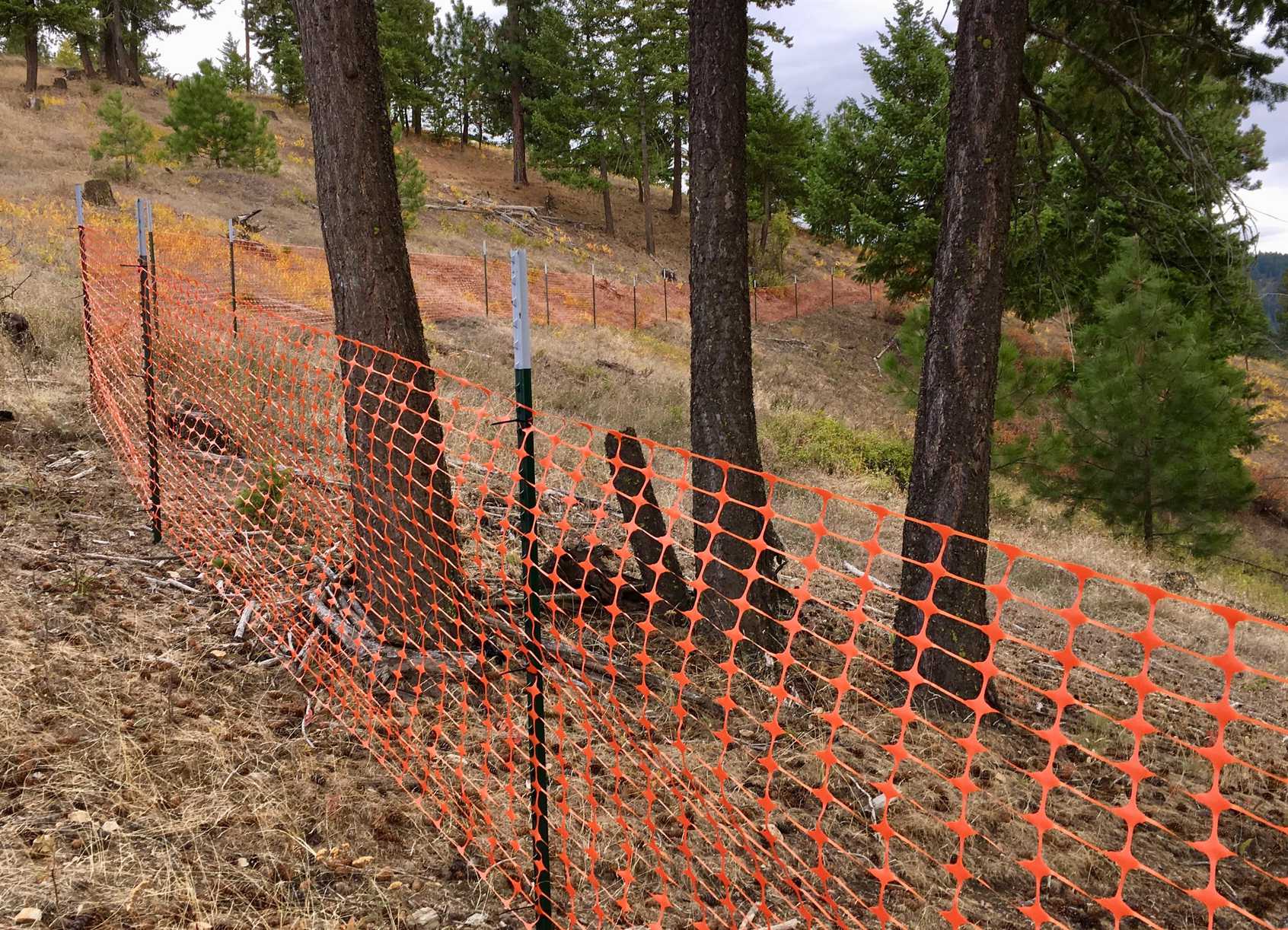 An orange fence closes off all the fall line trails on the north side of the Toilet Bowl, as well as the restoration pilot in Ocean Spray Bay below. Signs (not pictured) also mark the restoration areas.
Barriers to entry
Nearly a year ago volunteers installed T-posts along the national forest boundary, and as of today we have two strands of smooth wire installed on the posts north of the three-bollard barrier we installed a week ago. There's still quite a bit of fencing work left, but the main points of motorcycle incursion are now blocked.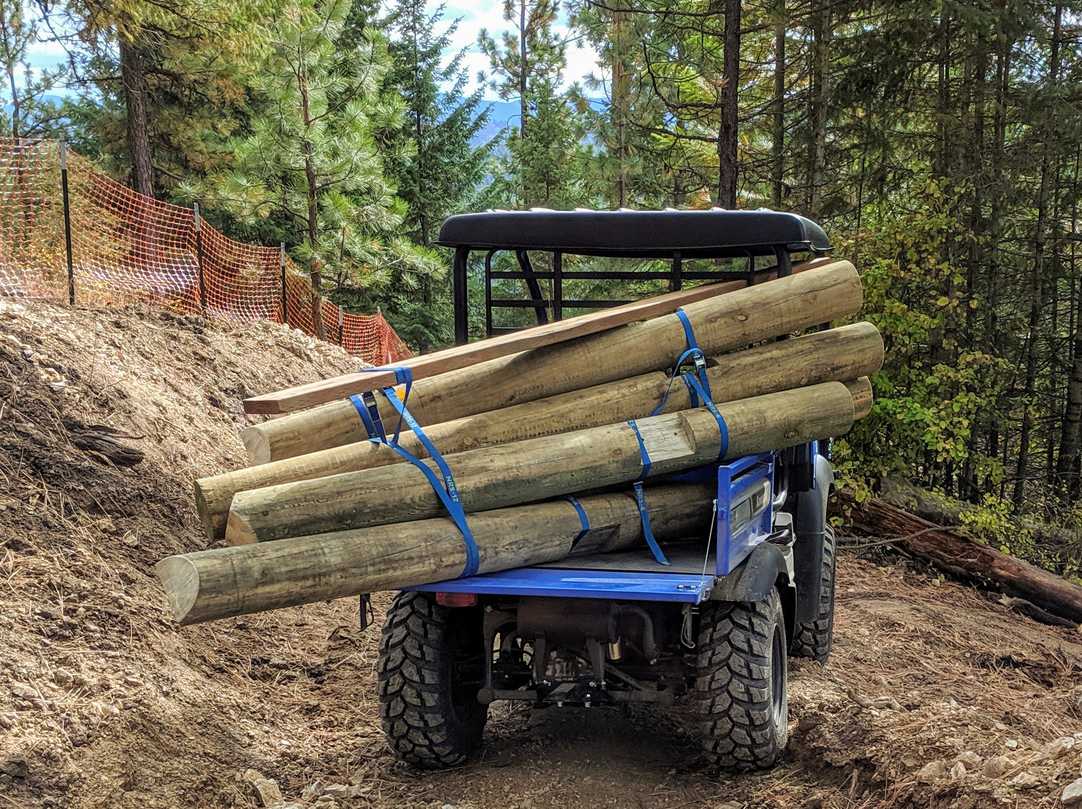 Fortunately we were able to haul the disassembled barrier close to the installation point with the Mule; at over 300 pounds total, carrying these up by hand would have been a major slog.
---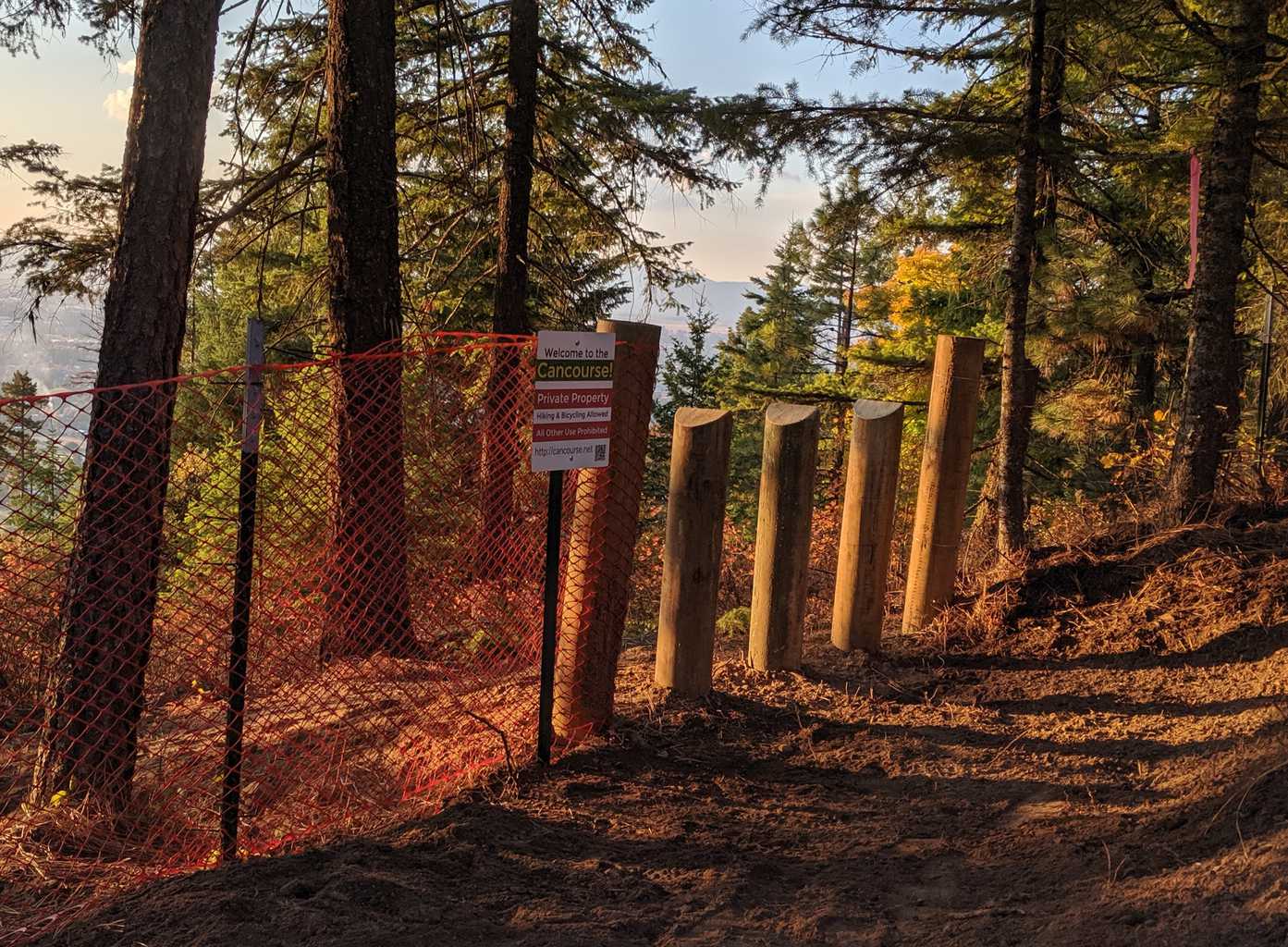 This barrier allows easy passage on foot. There are multiple bollards to ease walking through one gap while pushing a bicycle through an adjacent gap. It might be possible to ride a bicycle through without dismounting, but we don't recommend trying.
Last trail work party of the year?
We have one more trail work party planned for this year, from 1pm-4pm on October 27. We are going to finish shaping the top of the new flow trail. Take a look at the calendar event for a map and all the relevant details. Please join us! Winter weather is going to arrive any month now, so this might be the last time we can build trail until next spring.