Hints of a Master Plan
We started the Cancourse project just over a year ago, and it has been a very busy year! Through collaboration with over 50 volunteers we built an all-new climbing trail this spring, and we are now building a companion downhill flow trail, such that bicyclists will eventually be able to ride a loop with nearly 700' of elevation gain. Trail building is a lot of work, but it is only one small part of what goes into making the Cancourse as a whole sustainable long-term. From a broader perspective, well built trails are a mechanism for concentrating use onto resilient surfaces, thus reducing overall human impact. We as hikers and bicyclists want good trails, but the forest needs good trails if humans are to be part of the equation.
In many conversations over the past year, people have asked what the master plan is for the Cancourse. We could only provide general answers to start with, because we didn't know enough about the current health of the forest, nor did we know the details of current human use. Thanks to the efforts of Steve Bloedel, an experienced local professional forester, we now have a forestry plan in motion. Thanks to many conversations with community members, direct observation, and data from cameras at the primary entry points, we now have a general sense of usage type and volume. Some of what we learned surprised us.
Surprises
Although the central portion of the Cancourse needs lots of trees planted, the southern portion needs significant thinning, as well as sanitation harvesting to remove ponderosa pines that are suffering due to a heavy parasitic dwarf mistletoe burden.
Noxious weeds abound. We may may have knocked out the Canada thistle this summer, but the houndstongue is obnoxious, and the spotted knapweed is overwhelmingly pervasive. We have years of work ahead of us to get the weeds under control.
The bulk of access is for hiking from town up toward the top of Canfield Mountain, then back down.
The bicyclists are mostly experienced, though some children started trickling in once we completed the CatsUp climbing trail.
A non-trivial contingent accesses the Cancourse multiple times per week.
The hikers strongly favor steep, straight-up climbs, but when they hike back down the footing is poor and they create ever-widening braids. Indeed, one hiker complained about a reroute that reduced the grade in the same breath as complaining about unsure footing during descent.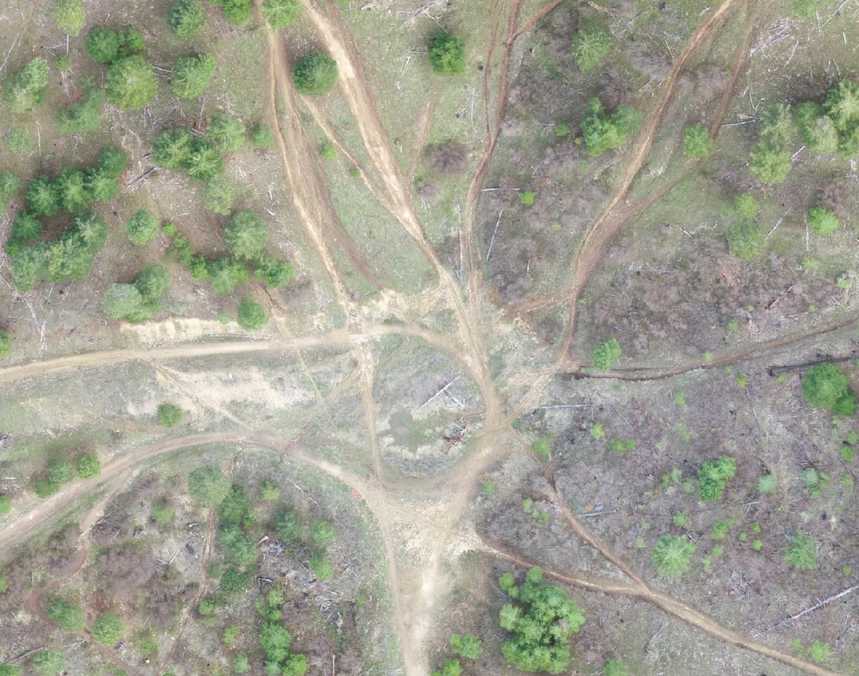 Hike/bike it and weep. This mass of scars is mainly due to motorcycles and mountain bikes. Elsewhere hiking has created braids wider than a road.
Master plan sketch
Before reading over the plan, consider what the goal is. As you look up at the mountainsides surrounding the Coeur d'Alene area, take note of all the houses that have appeared over the past ten years, and consider that it's only an accident of circumstances that kept the Cancourse undeveloped for so long. The Cancourse is in a special place, sandwiched between city limits at the edge of the valley floor below and the national forest above. By remaining a productive forest, the Cancourse can preserve a decades-long legacy of routine community-wide access to Canfield Mountain in particular, and the national forest in general.
Following are various salient facets of the master plan, with many incidental details left out (for example, extensive surveying and mapping over the past 9 months). Even at this coarse level of detail, the plan will necessarily adapt to changing circumstances.
Thin the forest in the southern region (2020). Incrementally plant in the central region (2021-2024). Likely perform a sanitation harvest of the ponderosa pine within the next several years, with the caveat that right now market conditions make it prohibitively expensive to do so.
Make incremental progress on weed control in 2020, and work toward large scale treatment starting in 2021 or 2022.
Initiate erosion rehabilitation pilot projects in October (join us on October 6!), and use what we learn to progressively expand our rehabilitation efforts.
Complete fencing and posting along the boundary in 2019, and vigorously discourage motorcycle incursion as a component of erosion restoration efforts.
Decommission incidental (not primary) eroded trails via brush placement and fencing, in advance of comprehensive restoration efforts.
Work with the National Forest Service to link the northeastern corner of the Cancourse with a non-motorized trail system as part of the Honey Badger Project.
Construct high quality trails that require minimal ongoing maintenance, then decommission nearby existing primary trails. These new trails are optimized for hiking, bike ascent, and/or bike descent. Trail design will naturally reduce use conflict; for example, the CatsUp climbing trail makes a good hiking trail, but it isn't particularly exciting as a downhill trail, so bicyclists will tend to prefer a different descent route.

Construct a top-to-bottom flow trail (2019-2020).
Continue from CatsUp to create a bottom-to-top climbing trail (2020).
Rehabilitate/harden/reroute the ridgeline hiking trail that connects the Canfield Mountain Natural Area with the national forest (2020-2021).
Construct a technical downhill trail in the northern Cancourse, and complete a climbing route that primarily utilizes existing road (2021-2022?).
Construct one or two hiking trails that climb toward the northeastern Cancourse (2022-2023?).
Community involvement
People throughout the local community have been overwhelmingly supportive during the first year of this project, and it is invigorating to see people enjoying the Cancourse. This is a very large project though, and ongoing community participation is critical to success. We are fortunate to partner with the Lake City Trail Alliance (LCTA), which provides expertise in trail design, construction, and maintenance, not to mention all the hard labor. The LCTA is a powerhouse when it comes to mountain biking trails, but we also have hiking-specific trails that we can forgive the mountain bikers for placing a lower priority on. Trail Maniacs has been a great help (even on mountain bike trails!), but we need more hikers to get involved when we start tackling the ridgeline trail in 2020. We also need community engagement for erosion-related restoration, starting October 6.
Whew, that's a lot of help we're asking for, but of course no one in the community has an obligation to get out there and maintain the Cancourse. That said, many of us who have somehow stumbled into trail work have found that working on the trails makes using the trails even more fulfilling than just spending all our available time playing on the trails. We invite you to step up your enjoyment to the next level, but the only obligation you have is to minimize impact and keep each other accountable for respecting the forest.