Broken Ground
Today our first new trail traded in a few flags for a switchback. This required a lot more dirt moving than is typical, because we had to fill in the steep back cut from a pre-existing excavation, lest the trail above collapse. Even so, we will probably have to build a short section of the trail by hand, since the dirt isn't compacted enough to safely support the excavator.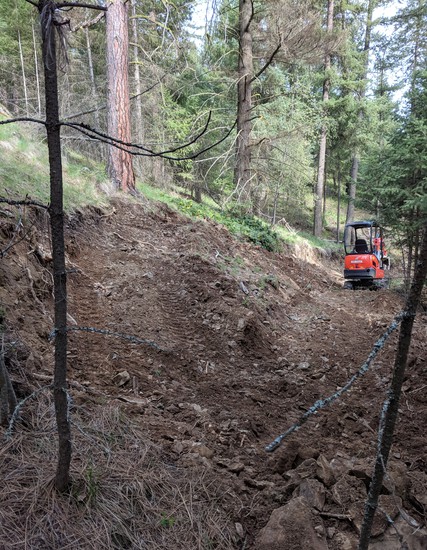 First switchback, and an old hole full of dirt
With this switchback and back-fill in place, we will have a much easier time walking the lower part of the trail, just in time for our first trail work party on May 5 (see calendar event for details). It will also give us the option to practice a bit of hand trail building and switchback tuning if we can fit it in with our other activities. If you love trails, and you enjoy working in the forest even a little bit, please join us!