New Trail in the Making
Last weekend a few Lake City Trail Alliance folks got together and started flagging the first new Cancourse trail. This trail climbs 250 feet, starting at the Shadduck Terminus and ending at the closest existing trail that adjoins the Canfield Mountain Natural Area. It is designed to be beginner-friendly and provide access to a small meadow that makes for a pleasant rest spot before heading onward or downward.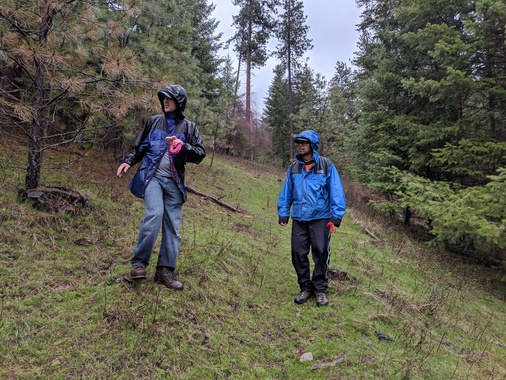 Completely soaked, flagging spirits
Help make it real
Of course, this trail is currently just a 5000'-long series of flags, and hundreds of hours of labor currently separate us from flags and trail completion. With that, it's high time for our first trail work party! We're going to meet the afternoon of May 5, starting at 1:00pm so as to avoid interference with the most excellent Hilly Nilly ride. For details and updates, see the May 5 event on the Cancourse Events calendar.