Northward Migration
The first northward migration of trail tools was recently spotted on the Cancourse! Sadly the poor things are currently resigned to huddling together for warmth, but the snow is sure to melt any month now. In the meanwhile we're busy planning spring activities, and jesting aside, we should be able to start within a couple weeks. Read on for details.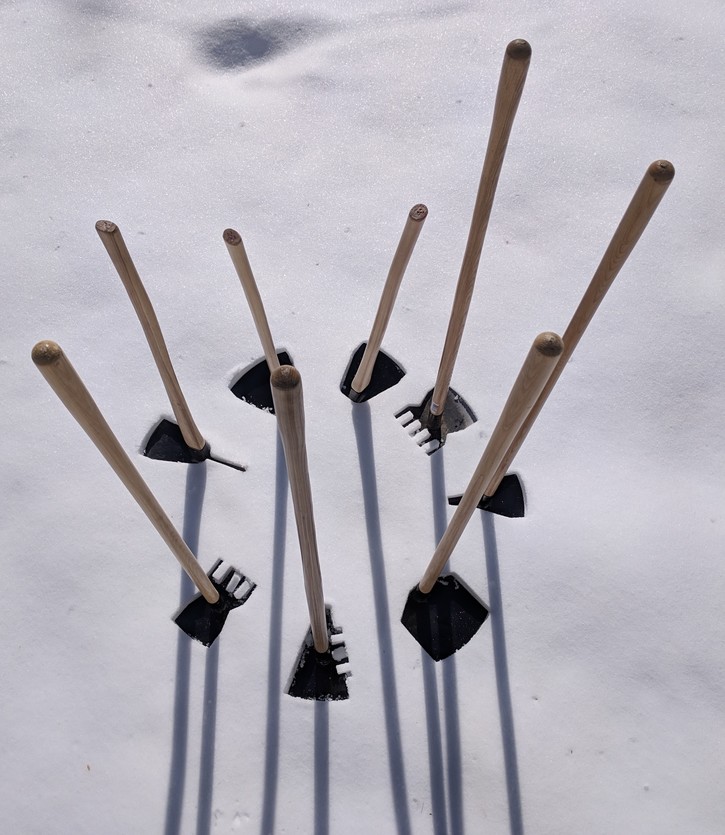 Trail tools huddling together for warmth
Fencing: Last November we installed T-posts along 2000' of the national forest boundary. We will finish installing T-posts along the remaining 2000', and then install two smooth strands of wire, such that the boundary is clearly marked but wildlife can still pass.
Access: We will add access at the East Shadduck Lane terminus, where Coeur d'Alene abuts the Cancourse. This will be our first experience with installing a U-turn barrier (see page 49 of this PDF) that allows hikers/bikers to pass without letting motorcycles through. Shadduck has plentiful parallel parking, and we're really excited to make access easier with minimal impact to those who live nearby.
New trail!: We will build a new gentle trail that adjoins the Shadduck terminus to the main double-track (typically labeled as Miners Loop on maps). The current double-track leading up is quite steep, and we want to make the climb feasible even for younger children.
More new trail?: We will build a U-turn barrier at the national forest boundary once we've learned from the experience of the Shadduck terminus barrier. Depending on what tools and materials we need, we may first improve/reroute one of the trails that leads to the boundary crossing.
There's much, much more in the works (trails and trees and erosion, oh my!), but we need to work out a master trail plan before we get too carried away. We've scheduled an aerial survey for this spring so that we have a detailed terrain map to work with. We're going to draw squiggly lines on the map and then we're going to need to sanity check everything on foot. By the end of fire season (that's a thing now, right?), we should be in full swing and building/improving trails for as long as autumn weather allows.
Get involved
We need lots of help for this project to progress in a timely fashion. If you are interested in taking part, regularly check the Cancourse website for updates and calls for project workday volunteers. Please also join the Lake City Trail Alliance and/or get involved with the Trail Maniac Foundation, both of which are doing great work to enrich our local recreation opportunities, the Cancourse included.